Your best source for student group travel to:
America's great and historic cities in the northeast United States
America's favorite travel destination states


Join American Student Tours® for your next exciting trip!

American Student Tours offers complete, full-serviced, packaged tours for students, teachers and adults that consistently provides that trip of a lifetime experience. AST organizes and specializes in competitively priced, custom designed student tours to any USA destination. Our main specialization is in school tours to New York City, Washington D.C., Philadelphia, Williamsburg, Hawaii, Alaska, Washington State, California, Florida. We offer the most complete one stop packaged tour planning in the market.

Let us take the guess work and time commitment out of planning a tour so that you can focus on what you do best. We provide insurance and liability coverage; all travel arrangements including meeting preparation, payment collection, transportation, lodging, food, security, guides, site reservations, etc.; and above all, we have 20 years of experience in packaging student tours. Give us the chance to package your next trip of a lifetime for your group.

Are you considering leading a group tour to one or more of the destinations that American Student Tours specializes in organizing? Fill out the Information Request Form for a free, no-obligation tour quote so that you can compare our low prices and superior tour inclusions. We are confident that you will not find a similar package at our low prices for the same level of quality travel from any of our competitors.

Please take some time to browse our website. Most of the links are provided for registered trip participants, although the unregistered guest will find many of the links interesting as well.
American Student Tours is proud to have been selected by the United States Department of Commerce to be in the first 92 American tour operator companies approved to provide tour services that began in June, 2008 for Chinese tourists coming to the United States. We have since been on the select list approved by the Chinese government and the U.S. National Tour Association China Inbound Program. American Student Tours enjoys hosting Chinese student groups on tour anywhere in the United States. Chinese visitors can now view our Website Translated into Chinese. We have also translated our website into Japanese, Spanish, French and German. All trip participants may now register for a tour and make payments online, view, download and purchase digital photographs from our Photos page and post their travel experiences on our Blog page.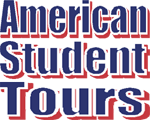 Registered Trip Participants: Please contact your Tour Coordinator or Tour Director for assistance or more information about your tour.
All Other Inquiries: Please send questions and comments to either our Customer Service Department or our Sales Department
or
call us toll-free at: (877)801-6398
Please note: This line is down at the moment due to technical problems with our toll-free phone provider
Please call your Tour Coordinator directly or send an email to our Customer Service Department

Experience The Difference With American Student Tours
"Well Done Is Better Than Well Said" - Benjamin Franklin



- Please note -

The American Student Tours office has completed our spring 2019 tours and is currently closed so that we can be away to research new itineraries, catch up on taxes and prepare for our upcoming 2020 tours

Please call your Tour Director or Tour Coordinator directly for a quick response or email us if you need assistance or have questions.
American Student Tours
Address: Login for Directions and Map
Phone: (877) 801-6398
Fax: (480) 393-5099
sales@americanstudenttours.com
customerservice@americanstudenttours.com
Serving the Student Tour Market Since 1989
Travel Agency Accreditation: IATA, IATAN
Memberships: SYTA, NTA, ASTA, ABA
Affiliate Membership: Washington D.C. Guides Association
Registered Seller of Travel UBI# 602 059 780 000
California Residents CST # 2093359-40